Replicator ©
Trade Copier
¿What is
Replicator?
It's a copier between accounts for NinjaTrader 8. A copier is a tool that allows you to copy trades from an account called "Main" to the account you want. You can select the instrument you want to copy, the number of contracts, through the multiplier, and even reverse the operation. It is a highly demanded tool that allows you to work with more than one account at the same time with an active connection.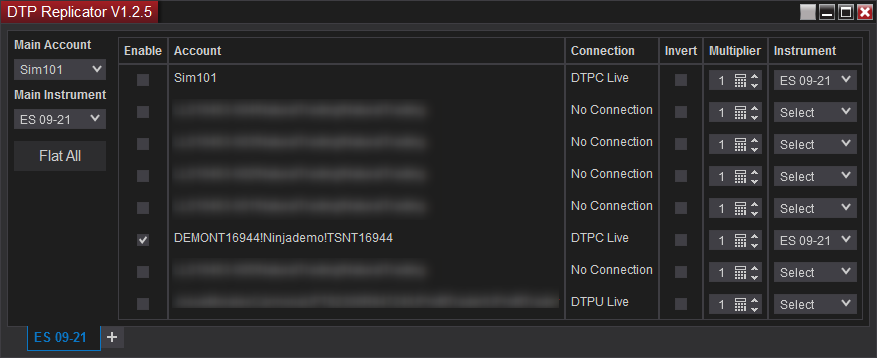 YOU DO NOT NEED TO APPLY IT TO ANY CHART
Being an Add-on you don't need to apply it to the charts, as you would with an indicator. You have it accessible from the New menu, DTP Replicator. A window will open and you can start working with the copier, selecting the Main account, the followers of that account, and other different characteristics that it has. All are accessible from the same window to facilitate its use and save you a lot of time in the configuration.
MULTIPLE TABS
Thanks to its native programming and being an Add-on, you can use as many instruments as you want in the same window. Configure the parameters for the mini sp in a window and with the + sign, add a new window to select another instrument, Main account, or any other feature you want. A tremendously easy-to-use tool with multiple options within the reach of a simple click.
INVIERT ANY TRADE
¿Have you ever thought that if you had done the opposite you would have done better? Replicator allows you to reverse the direction of a trade, from a "Main" account to any follower account. That means, if you go long on the "Main" account, you can go short on a follower. This feature is unique and allows you a wide range of management opportunities, not available to date.
¿Do you want to see
Replicator

in action?

The following video will show you in action REPLICATOR, and so you can see how it can help you progress in your Trading or manage your operations more efficiently in general, giving a new dimension to be able to operate multiple accounts at the same time.
¡Take advantage of an add-on
unique to date!
If you think it can be useful in your trading, don't think about it too much, especially when we are talking about the possibility of managing several accounts simultaneously and with different options. AVAILABLE NOW FOR USE. ¡MAKE THE PURCHASE NOW AND TAKE ADVANTAGE OF THIS TOOL WITH UNIQUE FEATURES TO DATE!
1 to 1 Test
If you are not sure about how REPLICATOR can help you, if it can be useful in your trading, or for any other questions you may have, you can contact me through this contact form. You will be able to see a live demonstration of the tool and thus be able to solve all the doubts you have.