VOLUME LADDER CHART Made by Traders for Traders
PROFESSIONAL TOOLS
One of the key aspects to succeed when trading, amongst other things, is having the right tools to help you make good decisions. Through the VolumeLadderCharts, you can get information of great value to manage your trades in markets constantly changing and evolving, seeing in real time how buyers and sellers interact amongst themselves.
CLEAR INTERFACE
It's important to see clearly what information you are analyzing. Therefore, the developing interface is designed so you can visually have a clear understanding of the situation.
HISTORICAL DATA
Thank's to the new features of NinjaTrader 8 you can enjoy historical information about buying and selling activity. This makes easy to take decisions based on past information.
FLEXIBLE
All Markets are different. Through the volume ladder chart indicator parameters, you can adapt the information to the market you want to trade, and see the information as you want.
ADVANCED FEATURES
Take a look at the different visualizations that you will see with the VLC, with full control of how you wish to see them. Configure the color of the volume, bid, ask, delta histogram, border histogram, font size, type of font…... For the colors, we use a volume gradient, easy to see visually fast changes in volume. Also, you can use shortcut keys to change quickly through these views. You will be able to filter a ladder at each tick by the volume quantity. When it comes to VA, POC, UA the indicator has many options to show them, configure to your liking, or extend these zones if they are naked based on a specific volume. Imbalances are another advanced feature. You have several options to configure them in the way you need, diagonal, horizontal or both. If you need to extend zones based on imbalances, you have a way to do it. Take a look at the absorption feature. Easy to spot trapped traders and excellent areas to go with the participant that is absorbing to the opposite side. The extreme ratio feature will help you to know if an extreme is rejected or defended.
BID/ASK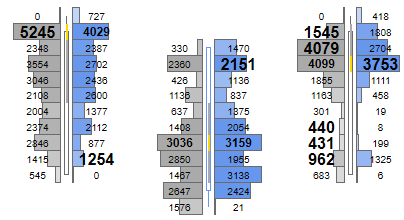 BARS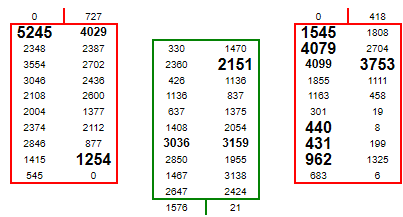 VOLUME DELTA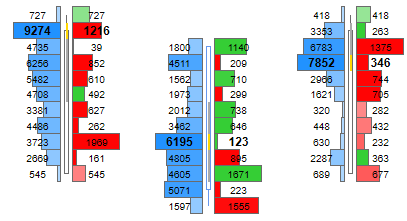 VOLUME BID ASK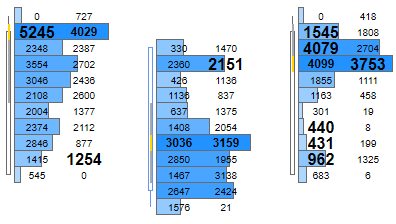 VOLUME DELTA BID ASK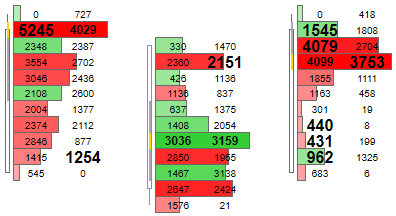 VALUE AREA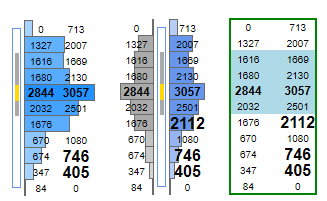 POC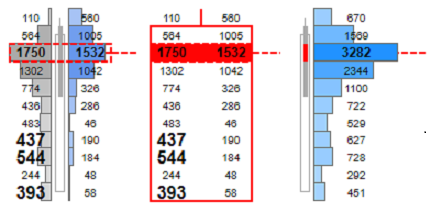 UNFINISHED AUCTION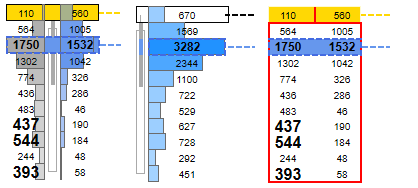 LADDER FILTER TIC>=100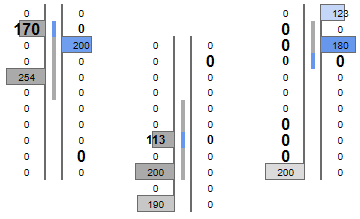 LADDER FILTER QTY>=2500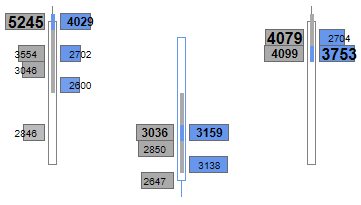 EXTREME RATIO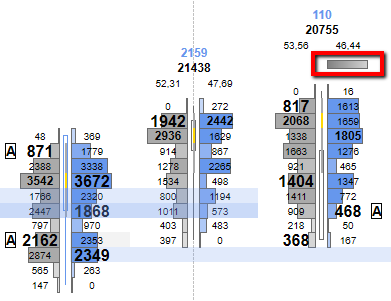 IMBALANCE ZONE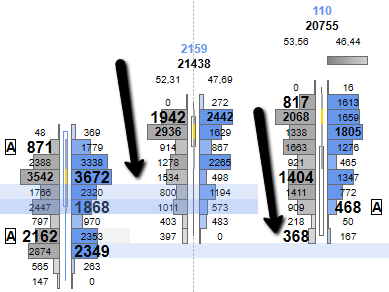 ABSORPTION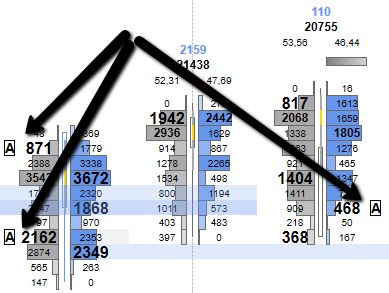 DELTA
See clearly if buyers or sellers are winning the battle. With the Delta Bars, you will be able to see the delta of the bar, the cumulative delta by session, the delta of imbalance prices and the cumulative delta imbalance. With the Delta Reversal, you can configure the Delta Bars, to spot changes in the predominant side.
BAR SESSION
You will get a nice summary of the session. You will know where is the Initial Balance, the Value Area for the session, VPOC, absorption and imbalances prices. Total volume, percent of buyers and sellers, and Finish Delta will give you more details about the predominant side for the session. A complete summary to get a clue about what participants are doing and to help you make decisions.
DOM
If you are an order flow trader you can't miss this advanced feature. The Dom will help you to see the actual volume traded through the best bid and best ask. You will see the delta of limits and with the iceberg detection column, you will follow where the market is trading hidden volume. A set of tools to let you make the best decisions in your trading.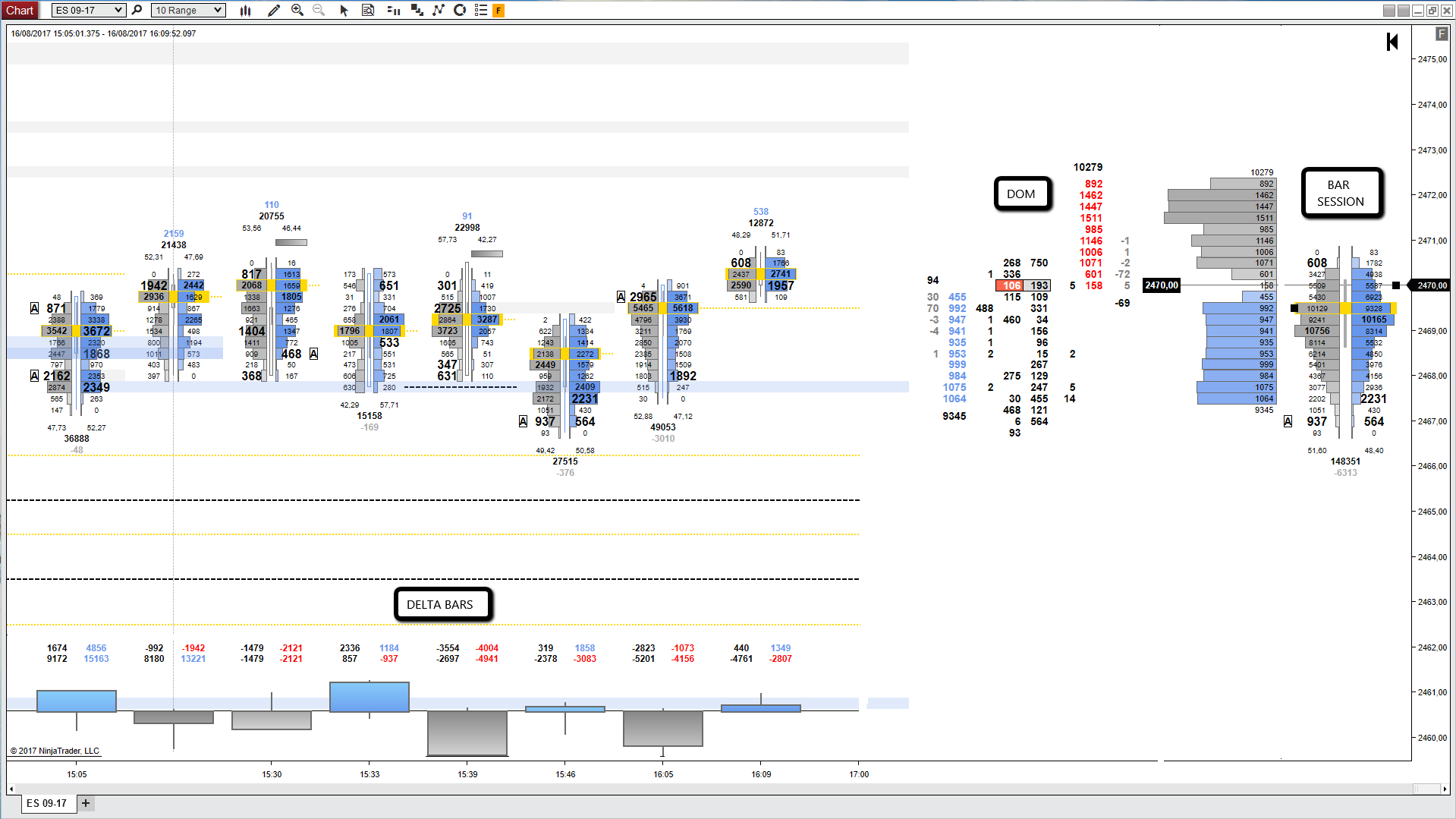 We are constantly adding new features and suggestions based on our self-experience or from our customers. Give us support and, BUY IT NOW!
FREQUENTLY ASKED QUESTIONS
On what platforms does the indicator work?
It serves solely for NinjaTrader 8, any version. Not compatible with any other platform or NinjaTrader 7
What is a Lifetime License?
Can I use Paypal to purchase the Indicator?
Can I read the manual prior to purchase?
Can I refund the purchase?
No, you can't and this is very clear in our EULA. All sales are final
What happens if I change to a new Computer? Do I need to buy a new license?
Can I take a trial prior to purchase the Indicator?
Does it Work in the Forex markets?
GET IN TOUCH!
Send us a message and we will attend to you as soon as possible:
Monday-Friday: 10:00 am - 13:00 pm
Weekend: Closed
volumeladdertrading@gmail.com
WARNING
All information provided on this website is for educational use only and in no case is an investment counsel, or an invitation to buy or sell a financial instrument. There is a significant risk of loss in the transactions of futures, commodities, stocks, options and foreign exchange products. You should carefully consider your financial situation before trade any financial instrument as there is the real danger of losing all your money. Venture capital is one that is lost does not affect the investor's financial security or lifestyle. You only have to use venture capital to operate and only those with sufficient risk capital should consider trading in the markets. Past performance is not indicative of future results.
CTFC RULE 4.41
CTFC RULE 4.41 – HYPOTHETICAL OR SIMULATED PERFORMANCE RESULTS HAVE CERTAIN LIMITATIONS. UNLIKE AN ACTUAL PERFORMANCE RECORD, SIMULATED RESULTS DO NOT REPRESENT ACTUAL TRADING. ALSO, SINCE THE TRADES HAVE NOT BEEN EXECUTED, THE RESULTS MAY HAVE UNDER-OR-OVER COMPENSATED FOR THE IMPACT, IF ANY, OF CERTAIN MARKET FACTORS SUCH AS LIQUIDITY. SIMULATED TRADING PROGRAMS IN GENERAL ARE ALSO SUBJECT TO THE FACT THAT THEY ARE DESIGNED WITH THE BENEFIT OF HINDSIGHT. NO REPRESENTATION IS BEING MADE THAT ANY ACCOUNT WILL OR IS LIKELY TO ACHIEVE PROFIT OR LOSSES SIMILAR TO THOSE SHOWN.

VLT
Trading with Professional Tools